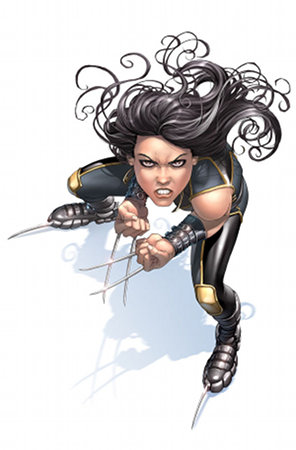 General Bio
Edit
Alias: Laura Kinney
Designation: Mutant/Artificially Enhanced
Powers: Regenerative Healing Factor; Bone Claws (coated in Adamantium); Superhuman senses, stamina, agility, reflexes & durability; Foreign Chemical & Disease Immunity; Longevity
This Incarnation: Classic
First Appearance: NYX #3
When a top-secret program attempted to recreate the original Weapon X experiment that involved the feral mutant Wolverine, they failed to secure a test subject who could survive the bonding process of the virtually unbreakable metal Adamantium to their skeleton. Seeking to take the project in a new direction, the project's director, Doctor Marin Sutter, recruited renowned mutant geneticist Doctor Sarah Kinney and tasked her with creating a clone.
Using the only available genetic sample from Weapon X, which was damaged, they were unable to salvage the Y chromosome after twenty-two attempts. Kinney proposed they create a female clone, and though her request was initially denied, she still went ahead and produced a viable female subject, prompting Sutter to reconsider. Despite resistance from his protégé Doctor Zander Rice, whom Sutter had raised after Rice's father had been killed by a bestial Wolverine at the original Weapon X Project, Sutter allowed Kinney to proceed. As revenge for her insubordination, Rice forced Kinney to act as the surrogate mother for the clone, and she gave birth to "X-23."
Raised in captivity, X-23 was trained to be a weapon. Kinney did her best to ensure the child retained some semblance of humanity, but her efforts appeared to be in vain. After seven years, Rice had X-23 subjected to radiation poisoning in order to accelerate the activation of her mutant gene, and forcibly extracted her claws and coated them with Adamantium.
Superhero Squad
Edit
X-23 currently has appeared in the Superhero Squad line one time:
Ad blocker interference detected!
Wikia is a free-to-use site that makes money from advertising. We have a modified experience for viewers using ad blockers

Wikia is not accessible if you've made further modifications. Remove the custom ad blocker rule(s) and the page will load as expected.