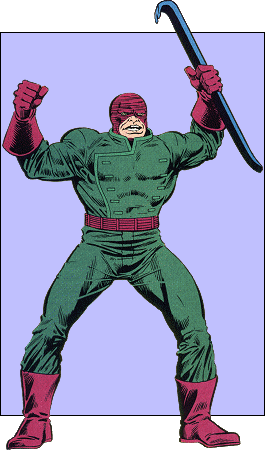 General Bio
Edit
Alias: Dirk Garthwaite
Designation: Magic
Powers: Superhuman Strength (40 tons), stamina, durability and a mystical Link with his enchanted crowbar.
Team: Wrecking Crew
This Incarnation: Classic
First Appearance: Thor #148
Dirk Garthwaite was a manual laborer employed by a demolitions company who was fired for his antisocial behavior and fits of violence. Deciding to turn his talent for mayhem and destruction to criminal activity, Garthwaite fashioned himself a simple costume to conceal his identity. He then committed a series of crimes under the name of the Wrecker, his trademark being the crowbar with which he devastated the scene of the crime. The Wrecker became more daring with each theft, and continually evaded the attempts of the police to capture him.
The Wrecker was eventually imprisoned, but paid people to keep track of the whereabouts of his crowbar, into which he believed his enchanted power had fled after being driven from his body. Together with three other inmates at Ryker's Island Prison, Dr. Eliot Franklin, Henry Camp, and Brian Phillip Calusky, the Wrecker made a successful jailbreak and managed to locate his crowbar. Willing to share his power with his allies, the Wrecker had the three other convicts join him in holding onto the crowbar outside during an electrical storm. Lightning struck the crowbar, magically distributing the enchanted strength bestowed upon the Wrecker among the four of them. The Wrecker's three allies then adopted costumes and aliases as well: Franklin became Thunderball, Camp became Bulldozer, and Calusky became Piledriver. Together the four superhumanly strong criminals became known as the Wrecking Crew, who were led by the Wrecker himself.
Superhero Squad
Edit
Wrecker currently has appeared in the Superhero Squad line one time:
Ad blocker interference detected!
Wikia is a free-to-use site that makes money from advertising. We have a modified experience for viewers using ad blockers

Wikia is not accessible if you've made further modifications. Remove the custom ad blocker rule(s) and the page will load as expected.