Check here for the archived news from the 2010 NY Toy Fair.
Marvel Super Hero Squad
Edit
SUPER HERO SQUAD 2-PACKS (Approximate Retail Price: $6.99; Ages 3 & up; Available: Spring 2010) The youngest Marvel fans can collect their favorite Marvel Super Hero characters with Hasbro's line of SUPER HERO SQUAD 2-PACKS. With a fun, unique style appealing to fans of all ages, each exciting pack includes two Super Heroes from the Marvel Universe. In total, 15 all-new 2-packs will be available in 2010 featuring characters such as SPIDER-MAN, IRON MAN, HULK, THOR, and CAPTAIN AMERICA.
SUPER HERO SQUAD SUPER HERO HEADQUARTERS (Approximate Retail Price: $34.99; Ages 3 & up; Available: Fall 2010) The SUPER HERO SQUAD SUPER HERO HEADQUARTERS is a top-notch home base for IRON MAN and his trustworthy SUPER HERO SQUAD companions. This two-in-one vehicle converts from a high-flying headquarters complete with lights, sounds and shooting discs into a playset for the SUPER HERO SQUAD characters to fight the villains, as seen in the popular TV show "THE SUPER HERO SQUAD" on the Cartoon Network.
SHS Helicarrier with Iron Man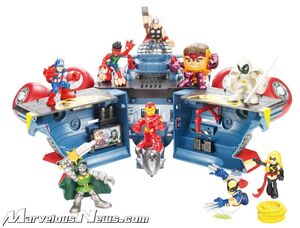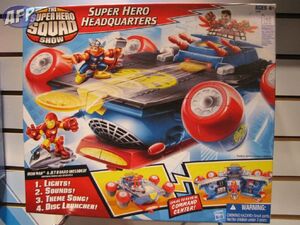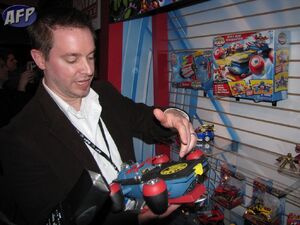 SUPER HERO SQUAD SDCC 2010 EXCLUSIVE (IRON MAN, DR. DOOM IN ROBE, AND THE MAYOR (STAN LEE))
SHIELD Car with Ultimate Nick Fury and Iron Man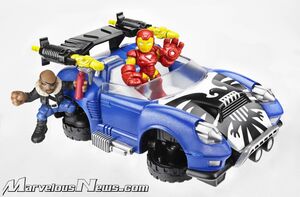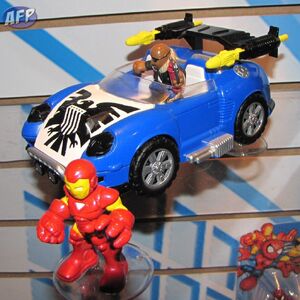 Quinjet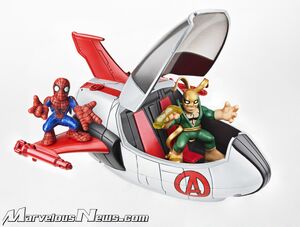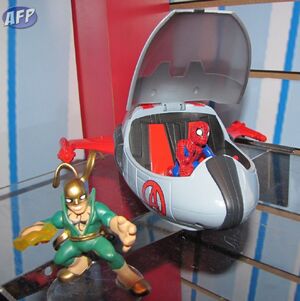 (Photos from www.marvelousnews.com & www.actionfigurepics.com)
SHS Wave 19:
Thanos & Captain Mar-Vell
Iron Man & Doc Strange
Hulk & Falcon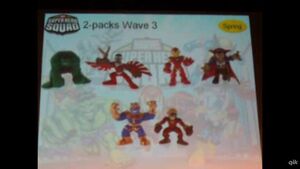 Iron Man 2 3-Packs Wave 2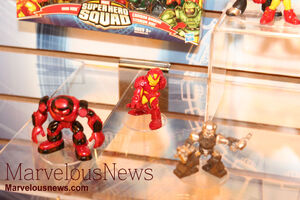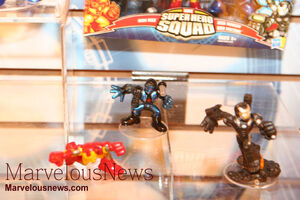 (Photos from www.marvelousnews.com)
Star Wars Galactic Heroes
Edit
Galactic Heroes Wave 23 - Confirmed
Anakin Skywalker (with Poncho) and ARF Trooper 2-Pack
Obi-Wan Kenobi and Commander Fil 2-Pack
Gunner Trooper and Battle Droid (with Jetpack) 2-Pack
Darth Vader and Stormtrooper 2-Pack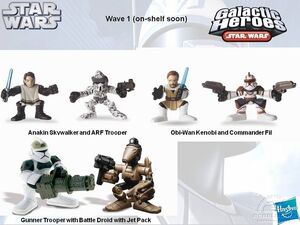 Galactic Heroes Wave 24
Republic Commandos 2-Pack
Clone Trooper and Padme 2-Pack
Anakin Skywalker and Ahsoka Tano 2-Pack
Cad Bane and Aurra Sing 2-Pack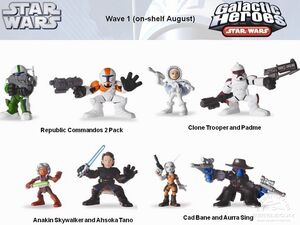 Cinema Scenes (Vehicle Sets)
EPIII Starfighter w/Anakin, General Grievous & Magna Guard
Slave One w/Jango Fett & Obi-Wan Kenobi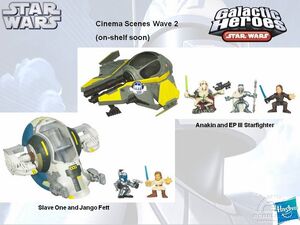 AT-AT w/Speeder Bike & AT-AT Driver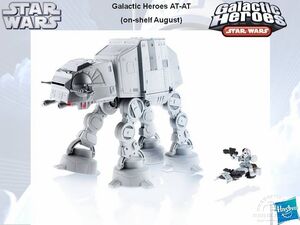 (Pics from www.rebelscum.com)
NOTE: Galactic Heroes Cinema Scenes will be discontinued after Fall 2010. (Considering the above Vehicle sets are considered Cinema Scenes, there may be none after those are released.)
Batman: Brave and the Bold Action League
Edit
Green Lantern Batman & Sinestro
Blue Beetle (Ted Kord) & Blue Beetle (Jaime Reyes)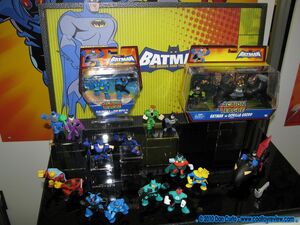 Ad blocker interference detected!
Wikia is a free-to-use site that makes money from advertising. We have a modified experience for viewers using ad blockers

Wikia is not accessible if you've made further modifications. Remove the custom ad blocker rule(s) and the page will load as expected.