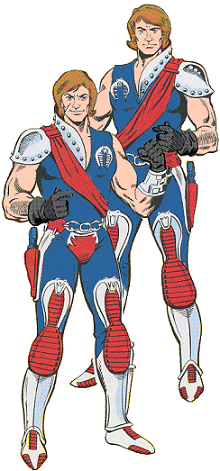 General Bio
Edit
File Name: Tomax
Specialties: Crimson Guard commander; Infiltration; Espionage; Sabotage, Propaganda; Corporate law
Birthplace: Island in the Mediterranean
Affiliation: Cobra
Tomax is one half of the Crimson Twins, the identical twin brother commanders of Cobra's Crimson Guard force. As head of the Siegies, they wage their war not in the battlefields but in courtrooms and executive board rooms. They bring a finesse to Cobra's power, their knowledge of law and finance is astounding as they wound enemies by their very own laws and ordinances.
Greedy and manipulative from the very start, he and his brother Xamot left the Foreign Legion to become mercenaries. They were too smart to be soldiers forever and learned banking from the very best in Zurich. He could crush companies with his knowledge of commerce, a three-piece suit and a laptop. Their financial exploits caught the attention of Cobra Commander. He didn't think twice about the opportunity and took to the Commander's offer to work for him.
Combat Heroes
Edit
Tomax has not currently appeared in the Combat Heroes line, but he was expected to appear once
He was thought to appear in his classic red and blue costume in the Cobra Pack 5-Pack, but it was cancelled
Ad blocker interference detected!
Wikia is a free-to-use site that makes money from advertising. We have a modified experience for viewers using ad blockers

Wikia is not accessible if you've made further modifications. Remove the custom ad blocker rule(s) and the page will load as expected.