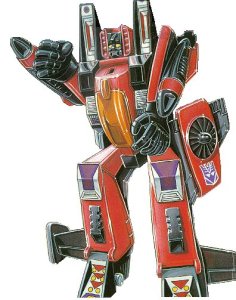 General Bio
Edit
Universe: Generation One
Transforms into: Cybertronian jet, Modified F-15
Faction: Decepticons
Voiced by: Ed Gilbert
Appearances: Transformer the Cartoon
In the episode "The God Gambit" Cosmos collected data in space on a potential new power source, but was attacked by Astrotrain, Thrust and Starscream. Crashing on the moon Titan, the local priests worshiped the Decepticons as "Sky Gods", but rebels were able to reactivate Cosmos and call for aid from the Autobots. Optimus Prime sent Omega Supreme with Perceptor and Jazz. Astrotrain set himself up as the chief god of the moon and forced the natives to gather energy crystals. The trip to Titan drained Omega of most of his energy, but Perceptor and Jazz were able to gather enough crystals to reactivate Omega and defeat the three Decepticons. Vowing to not let the Autobots gain the crystals, Astrotrain set up a chain reaction destroying them. The Autobots aided the natives to escape the explosion and helped them settle in another area of the moon. In "The Golden Lagoon" Thrust is the one that discovers the lagoon after Beachcomber left. He was also one of the nine Transformers to be transported to the giant alien world in "Child's Play". He attempted to warn the Insecticons about the Morphabots in "Quest For Survival," but was simply fired upon. In "Kremzeek!" he was responsible for dropping Kremzeek in the Autobot base. Thrust also appeared in the The Transformers: The Movie. Among other roles he had in the movie, Thrust is most recognized as the first Decepticon run over by Optimus Prime as the Autobot Leader made his way towards Megatron. In his last U.S. appearance, "Ghost in the Machine", Thrust and Dirge are among other Decepticons being punished by Galvatron for failing to stop a demoralizing assault by Starscream -- now a ghost possessing the bodies of other Decepticons. Just before he and the other offenders are to be hunted down, Trypticon, the Decepticon city is possessed, trapping Thrust, Dirge, Runamuck and Runabout inside. He and Dirge liberate Trypticon from Starscream's control, just before the traitorous ghost was about to aid Unicron in destroying Cybertron.
Robot Heroes
Edit
Thrust has currently appeared in the Robot Heroes line one time:
Ad blocker interference detected!
Wikia is a free-to-use site that makes money from advertising. We have a modified experience for viewers using ad blockers

Wikia is not accessible if you've made further modifications. Remove the custom ad blocker rule(s) and the page will load as expected.