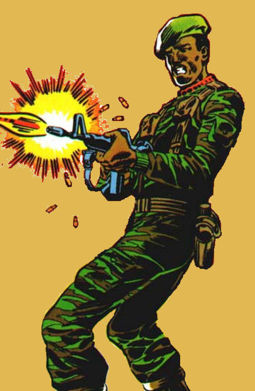 General Bio
Edit
File Name: Lonzo R. Wilkinson
Aliases: Sgt. Stalker
Specialties: Ranger, Squad commander
Birthplace: Detroit, Michigan
Grade/Rank: Sergeant Major (E-9)
Affiliation: GI Joe
You would never have thought but before Stalker joined the Army he was the leader of a large street gang in Detroit. Life in the gang tempered him into a ferocious fighter and a leader capable of controlling rambunctious men. Life in a gang disillusioned Stalker but the skills he learned, he brought with him in the Army and became one of the most trusted men tasked with leading squads in their missions.
Stalker is a graduate from Monterey's Army Languages School, Fort Holabird's Intelligence School and Fort Bening's Ranger School. His fluency in a variety of languages (including French, Arabic and Swahili) means he is a hard man to fool.
Combat Heroes
Edit
Stalker has not currently appeared in the Combat Heroes line, but he was expected to appear once:
He was expected to appear in his classic army costume in the GI Joe Pack 5-Pack, but it was cancelled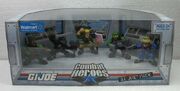 Ad blocker interference detected!
Wikia is a free-to-use site that makes money from advertising. We have a modified experience for viewers using ad blockers

Wikia is not accessible if you've made further modifications. Remove the custom ad blocker rule(s) and the page will load as expected.