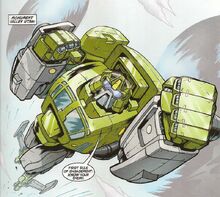 General Bio
Edit
Universe: Movie
Transforms into: Helicopter V-22 Osprey
Faction: Autobots
Voiced by: None
Appearances: Supposed to appear in Transformers: Revenge of the Fallen
The original script for the movie was to have Springer in it along with Depth Charge and Breakaway and concept art was even created for him but after many revisions to the script, Springer was cut out of the movie all together along with Depth Charge & Breakaway due to the writer strike, concept art was also created for him, although he survived in both his Legends and Robot Heroes toys.
Robot Heroes
Edit
Springer has currently appeared in the Robot Heroes line one time:
Ad blocker interference detected!
Wikia is a free-to-use site that makes money from advertising. We have a modified experience for viewers using ad blockers

Wikia is not accessible if you've made further modifications. Remove the custom ad blocker rule(s) and the page will load as expected.