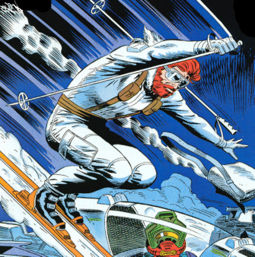 General Bio
Edit
File Name: Harlan W. Moore
Specialties: Cold weather combat; Ski patrol; Rifle instructor
Birthplace: Rutland, Vermont
Grade/Rank: Sergeant First Class (E-7)
Affiliation: GI Joe
You can always count on Snow Job to be your friend except when he offers you up on something. That's the time you should be staying away from him. He is not simply called Snow Job because he wears skis, he's a con man, plain and simple. Those who know him better do well to stay away from him on payday.
Snow Job was a member of the U.S. Olympic Biathlon team. His original motivation for joining the Army was because of the privileges and special training for Olympic athletes such as he would get. His application for the Joe Team came as a complete surprise for everyone. He was accepted nonetheless. Snow Job is one of the most skilled marksmen. He can ski down or climb up mountain sides and then pick off a target a thousand yards away.
Combat Heroes
Edit
Snow Job has not currently appeared in the Combat Heroes line, but he was rumored to appear once:
He was supposed to appear in the Snow Job and Tor 2-Pack, but it was only rumored and assumed to be cancelled after the previous wave of Combat Heroes was cancelled
Ad blocker interference detected!
Wikia is a free-to-use site that makes money from advertising. We have a modified experience for viewers using ad blockers

Wikia is not accessible if you've made further modifications. Remove the custom ad blocker rule(s) and the page will load as expected.