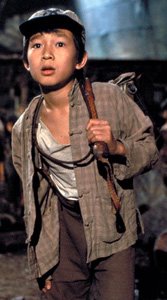 General Bio
Edit
Nationality: Chinese
Professions: Pickpocket, Bodyguard
Allegiances: Indiana Jones
Played by: Ke Huy Quan
Appearances: Indiana Jones and the Temple of Doom
The boy known as Short Round (also nicknamed "Short Stuff" or "Shorty") was born in 1926 as Wan Li. Orphaned during the Japanese bombing of Shanghai in 1932, Li picked up his alias as a pickpocket on the streets of his home town and attempted to rob the man he would later refer to as Dr. Jones.
Adventure Heroes
Edit
Short Round currently has appeared in the Adventure Heroes line one time:
Ad blocker interference detected!
Wikia is a free-to-use site that makes money from advertising. We have a modified experience for viewers using ad blockers

Wikia is not accessible if you've made further modifications. Remove the custom ad blocker rule(s) and the page will load as expected.