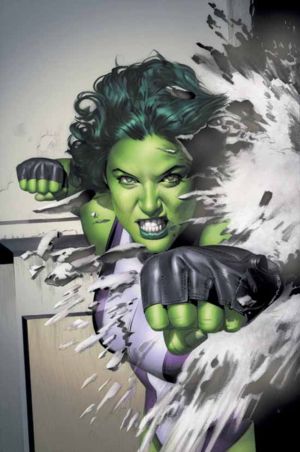 General Bio
Edit
Alias: Jennifer Susan Walters
Designation: Artificially Enhanced
Powers: Superhuman strength, speed, agility, stamina, and durability and a regenerative healing factor
This Incarnation: Classic
First Appearance: Savage She-Hulk #1
Jennifer Walters, the meek and mousy lawyer cousin of Bruce Banner, was the daughter of Sheriff Morris Walters. Agents of Nicholas Trask, a crime boss who had crossed paths with her father, shot and seriously wounded her on a day when her cousin was in town. Bruce gave her a blood transfusion, as no other donors of her blood type were available; the radioactive blood mutated Jennifer as it had her cousin, transforming her into the She-Hulk. Although Jennifer was at first savage while in her form as She-Hulk, she eventually gained the same intelligence she had as the normal Jennifer Walters. She quickly came to appreciate the confidence and assertiveness that had come with being She-Hulk. For a long time, she felt more comfortable in her form as She-Hulk than in her "normal" form as Jennifer. But she has gradually grown comfortable in both forms, and realized that she has much to offer the world in both her forms. After a brief solo career, she joined the Avengers and temporarily replaced the Thing in the Fantastic Four.
Superhero Squad
Edit
She-Hulk currently has appeared in the Superhero Squad line one time:
Ad blocker interference detected!
Wikia is a free-to-use site that makes money from advertising. We have a modified experience for viewers using ad blockers

Wikia is not accessible if you've made further modifications. Remove the custom ad blocker rule(s) and the page will load as expected.