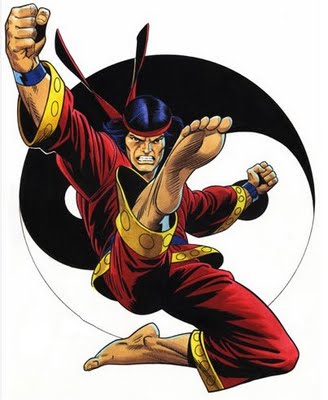 General Bio
Edit
Alias: Shang-Chi
Designation: Conditioned
Powers: Superb athlete and expert practitioner of the Chinese martial arts
Team: none
This Incarnation: Classic
First Appearance: Special Marvel Edition #15
Shang-Chi was born in the Hunan province of the People's Republic of China, and is the son of Fu Manchu, the Chinese mastermind who has repeatedly attempted world conquest. Shangi-Chi was raised and trained in the martial arts by his father and his instructors. He was sent on a mission to murder Dr. Petrie, but he met Fu Manchu's archenemy, Sir Denis Nayland Smith and learned that Fu Manchu was evil and rebelled against his father. Shang-Chi battled Midnight, and then first met his close ally Black Jack Tarr. Shang-Chi became an ally of Sir Denis Nayland Smith, and opposed Fu Manchu, and battled the Si-Fan assassins. As a secret agent, he encountered the Man-Thing, and first met the superhero Spider-Man. Shang-Chi then first met his friend Clive Reston. Shang-Chi battled the Shadow-Stalker and Fu Manchu's Phansigar followers, and rescued Dr. Petrie from Fu Manchu. He then first opposed his half-sister, Fah Lo Suee. He opposed Carlton Velcro, and first battled Razor-Fist and Pavane. Shang-Chi then first met love Leiko Wu. He opposed Mordillo and Brynocki. He first encountered the Cat, then first met Iron Fist, and then first battled Shockwave. He is now on the newly restored Heroes For Hire team with heroes such as Misty Knight, Colleen Wing, and Black Cat.
Superhero Squad
Edit
Shang-Chi currently has appeared in the Superhero Squad line one time:
Ad blocker interference detected!
Wikia is a free-to-use site that makes money from advertising. We have a modified experience for viewers using ad blockers

Wikia is not accessible if you've made further modifications. Remove the custom ad blocker rule(s) and the page will load as expected.