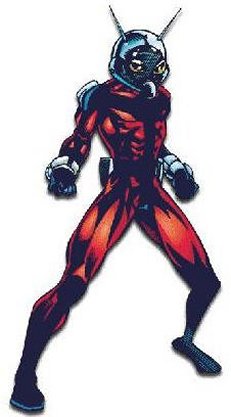 General Bio
Edit
Alias: Scott Lang
Designation: Artificially Enhanced
Powers: Size shifting, bio-electric blasts and telepathic insect control
Team: The Avengers
This Incarnation: Classic
First Appearance: Avengers #181
Scott Lang was an electronics expert who could not support his family doing repair work, so he turned his talents to burglary. Apprehended, he served his prison sentence and was paroled for good behavior. During his time in prison, however, his wife divorced him. Lang had furthered his studies of electronics while in prison and was soon hired by Stark International to work in its design department. Lang's daughter was diagnosed with a serious heart condition, so he decided to again resort to burglary. Breaking into the New Jersey home of Dr. Henry Pym, Lang stole his Ant-Man uniform and shrinking-gas canisters. Unknown to him, Pym observed the theft and in his guise as Yellowjacket, followed Lang, curious to see to what use he would put the paraphernalia. Lang intended to return the Ant-Man costume to its owner and turn himself in, but Henry Pym offered to let him keep them, provided Lang put them to lawful use.
Superhero Squad
Edit
Scott Lang currently has appeared in the Superhero Squad one time, but it is unclear if it is actually him:
Ad blocker interference detected!
Wikia is a free-to-use site that makes money from advertising. We have a modified experience for viewers using ad blockers

Wikia is not accessible if you've made further modifications. Remove the custom ad blocker rule(s) and the page will load as expected.