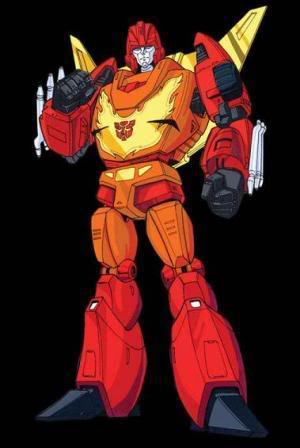 General Bio
Edit
Universe: Generation One
Transforms into: Cybertronian race car, Cybertronian RV, Dome Zero, Ford GT, Dodge Viper, Pagani Zonda
Faction: Autobots
Voiced by: Judd Nelson (movie), Richard Gautier (TV series)
Appearances: Transformers the Cartoon
Hot Rod has a youthful attitude, and serves as an older brother figure to Daniel Witwicky, son of Autobot ally Spike Witwicky. He has a sort of mentor-student relationship with the veteran Autobot, Kup. He was also good friends with Springer and Arcee. Later in life, he temporarily bears the Autobot Matrix of Leadership and becomes Rodimus Prime, and leader of the Autobots. Hot Rod first appeared in the American animated series during the events of Transformers: The Movie, where he was one of the many Autobots stationed at Autobot City. He fought in the Autobot city battle and inadvertently caused the death of Optimus Prime due to his attempted intervention in the battle between the Autobot leader and Megatron. He fled the city with Kup and the Dinobots when Galvatron, a recreated Megatron, attacked the city after being reformatted by Unicron. After meeting up with the other Autobots after a series of adventures on planets Quintessa and Junk, Hot Rod returned to the other Autobots and rushed to Cybertron to save it from being eaten by Unicron. After facing Galvatron inside Unicron's body, Hot Rod was able to get his hands on the Autobot Matrix of Leadership, as the voice of Optimus Prime is heard saying "Arise, Rodimus Prime". The power of the Matrix reformatted Hot Rod into Rodimus Prime, with a larger body, deeper voice, and different vehicle mode. It also destroyed Unicron's body, bringing the events of The Transformers: The Movie to a close with Rodimus Prime as the new Autobot leader. After the movie, Rodimus did not have time to rest on his laurels as commander, immediately finding himself and the Autobots targeted by the Quintessons, who lured him to their planet of Quintessa and detonated it in hopes of destroying the Matrix. Rodimus and the Autobots survived, however, and Rodimus proceeded to voluntarily short-circuit himself to allow his life-force to enter the Matrix, feeling that the answer to the mystery of the Quintessons' identity lay within it. His hunch proved correct – the Quintessons, he discovered, were the Transformers' creators, and Rodimus knew that the future would be a difficult time for the Autobots.
Robot Heroes
Edit
Rodimus has currently appeared in the Robot Heroes line one time:
Ad blocker interference detected!
Wikia is a free-to-use site that makes money from advertising. We have a modified experience for viewers using ad blockers

Wikia is not accessible if you've made further modifications. Remove the custom ad blocker rule(s) and the page will load as expected.