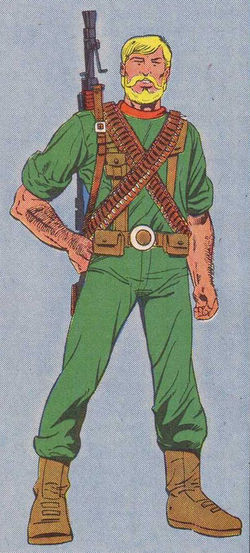 General Bio
Edit
File Name: Craig S. McConnel
Aliases: Rock N Roll; Rock 'n Roll; Sgt. Rock 'n Roll
Specialties: Infantry; PT Instructor
Birthplace: Malibu, California
Grade/Rank: Sergeant First Class (E-7)
Affiliation: GI Joe
It has been said that the sound of machine gun fire is music to Rock 'n Roll's ears. Back when in his teenage years in Malibu, he was a surfer, pro weight lifter. He played bass guitar in a local rock band with a particular affinity for British heavy metal. Accustomed to loud, amplified noises, being the Joe Team's machine gunner was a natural for him. He graduated top of class in Advanced Infantry Training School.
Rock 'n Roll is one of the easiest people to get along with. He brings a sense of camaraderie and genuinely cares for his teammates. While he can be a raging bull, he is definitely someone you want on your side.
Combat Heroes
Edit
Rock & Roll has not currently appeared in the Combat Heroes line, but he was rumored to appear once:
He was thought to appear in the Rock Roll and C 2-Pack, but it was only rumored and assumed to be cancelled after the previous wave of Combat Heroes was cancelled.
Ad blocker interference detected!
Wikia is a free-to-use site that makes money from advertising. We have a modified experience for viewers using ad blockers

Wikia is not accessible if you've made further modifications. Remove the custom ad blocker rule(s) and the page will load as expected.