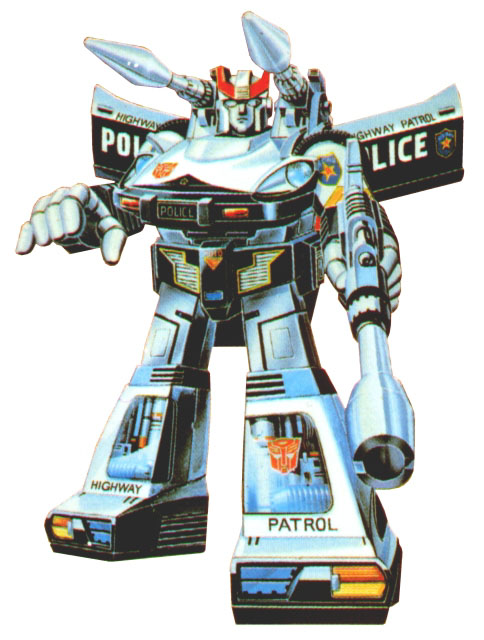 General Bio
Edit
Universe: Generation One
Transforms into: Cybertronian Car, Nissan Fairlady Z Police Car, Formula 1 racer, Cobra Firebat, Lion, Nissan 350Z Police Car
Faction: Autobots
Voiced by: Michael Bell
Appearances: Transformers the Cartoon
A regular member of the battle units assembled to combat the assorted threats the Decepticons posed to Earth, Prowl's primary solo adventure saw him pursue Starscream, Thundercracker and Soundwave alongside Bluestreak after a botched raid, only for injuries sustained in the ensuing battle to knock his battle computer offline. Unable to mobilize himself without its functions, Prowl reached out electronically and interfaced with the nearby computer of Chip Chase, who manipulated Prowl's body and fended off the Decepticons. Beyond that, however, Prowl's role as a strategist put him firmly in the background of the Transformers' ongoing adventures on Earth, participating in many battles but playing key roles in few; among some of his roles in conflict involving him orchestrating the plan to invade the Decepticons' underwater base, devising security measures to prevent Megatron from stealing super-fuel from an Autobot convoy and leading the attack against the Triple Changer Blitzwing's fortress when he separated from the Decepticons, only to wind up built into a throne by Scrapper, after being smashed and defeated by Blitzwing's tank mode. In the year 2005, when the Autobots had been forced off of Cybertron and were based out of Autobot City on Earth and two orbiting moon bases, Prowl, Ironhide, Ratchet and Brawn were dispatched to Earth to collect a shipment of energon cubes that would power the Autobots' subsequent strike at the Decepticons. Getting wind of the plan, Megatron and his forces attacked their shuttle, and a single direct hit from Scavenger's weapon penetrated Prowl's armor, melting his internal workings which extinguished his Spark and ended his life. His recovered body was laid to rest in the Autobots' deep-space mausoleum, which was later destroyed.
Robot Heroes
Edit
Prowl has not currently appeared in the Robot Heroes line, but he was supposed to appear once:
He was supposed to appear in his classic black and white Generation One incarnation in the Prowl and Laserbeak 2-Pack, but it never made it to stores
Ad blocker interference detected!
Wikia is a free-to-use site that makes money from advertising. We have a modified experience for viewers using ad blockers

Wikia is not accessible if you've made further modifications. Remove the custom ad blocker rule(s) and the page will load as expected.