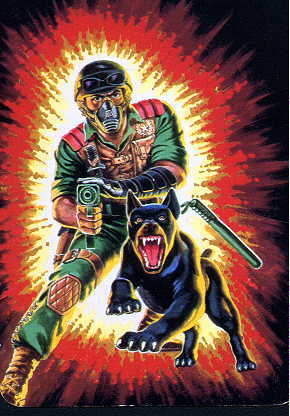 General Bio
Edit
File Name: Stanley R. Perlmutter
Specialties: Animal control and utilization; Infantry; Covert operations
Birthplace: Iselin, New Jersey
Grade/Rank: Sergeant (E-5)
Affiliation: GI Joe
Mutt is a complete natural with animals. Once he is able to truly connect with the trained dogs, he very much only needs the barest of commands for them to do his bidding. This ability has come to the point where it has become more easier for other people to get along with his dog trainees than it is with him. This trait of his was honed since he was a child growing up surrounded with many pets. At one point, he even foiled a burglary by being able to keep his pet dogs from revealing their presence to the intruder until the crook was completely surrounded.
Of all the dogs he has trained over the years, Junkyard is the one who he has connected to with the most. Together, Mutt proves he's not man's best friend but dogs'.
Combat Heroes
Edit
Mutt has not currently appeared in the Combat Heroes line, but he was rumored to appeared once:
He was supposed to appear in the Mutt Junkyard 2-Pack, but it was only rumored and assumed to be cancelled after the previous wave of Combat Heroes was cancelled
Ad blocker interference detected!
Wikia is a free-to-use site that makes money from advertising. We have a modified experience for viewers using ad blockers

Wikia is not accessible if you've made further modifications. Remove the custom ad blocker rule(s) and the page will load as expected.