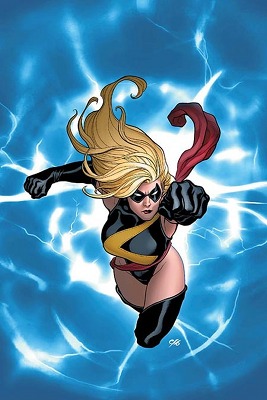 General Bio
Edit
Alias: Carol Danvers
Designation: Half-Kree
Powers: Superhuman strength, speed, stamina, and durability, energy projection and absorption, and flight
This Incarnation: Classic
First Appearance: Marvel Super-Heroes #13
Carol Danvers grew up as the oldest child of three in a traditional Boston home, with a contractor father who believed in the merits of hard work. When he built their Cape Cod summer home, Carol insisted on working as hard as her two younger brothers, trying to make equal in her father's eyes. Her father however, could not accept women as men's equals, and when financial troubles meant he could only send one child to college, he chose middle child Steve despite Carol's superior grades. Carol graduated from high school first in her class and took a sales job. She turned 18 just a few months later, and the following day she turned her back on her father and joined the Air Force, intending to be a pilot and to get a college degree via the military. Becoming the youngest security captain in NASA's history, she became embroiled in the schemes of the interstellar alien Kree Empire. It was during this time that she met and eventually befriended the Kree soldier Mar-Vell whose enemies would soon be responsible for her future transformation. The alien Yon-Rogg then kidnapped her while she was still concussed and eventually battled Mar-Vell. During this battle, Carol was knocked into a damaged Kree Psyche-Magnitron, a powerful device which could turn imagination into reality. Carol's genetic structure was altered effectively making her a half-Kree superhuman. She was unaware of this change for months. After discovering her powers, Carol became a member of the Avengers and fought crime along side many superheroes. At one point she lost her powers to the mutant Rogue and became a new hero known as Binary and joined the Starjammers. She soon regained her original powers and has aided Iron Man in creating the team known as the Mighty Avengers.
Superhero Squad
Edit
Ms. Marvel currently has appeared in the Superhero Squad line one time:
Ad blocker interference detected!
Wikia is a free-to-use site that makes money from advertising. We have a modified experience for viewers using ad blockers

Wikia is not accessible if you've made further modifications. Remove the custom ad blocker rule(s) and the page will load as expected.