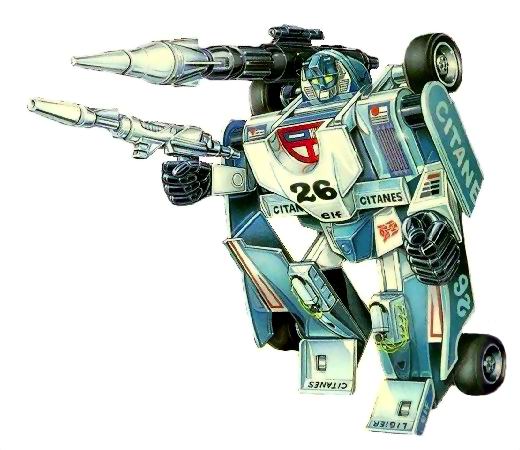 General Bio
Edit
Universe: Generation One
Transforms into: 1979 Ligier JS11-Ford Formula One racer
Faction: Autobots
Voiced by: Frank Welker
Appearances: Transformers the Cartoon
The animated series opted to present Mirage's desire to return to Cybertron as a genuinely sad longing, rather than as a result of any great dislike of Earth; and his unwillingness to fight was portrayed in "More than Meets the Eye" more as a semi-pacifistic nature. This shaped him into a more gentle character, not especially like the snob suggested by his profile. His actions immediately after the Transformers' reactivation on Earth in 1984 were heroic ones, working with Hound on a plan to dupe the Decepticons, and using his invisibility powers to sneak aboard the villains' space cruiser as it launched, sabotaging it from within and forcing it to crash back to Earth. Be it as a result of his own desire not to engage in combat or not, Mirage's role in the Autobots' battles on Earth was a distinctly minimal one, leaving him confined to the background on the battlefield, or not present at all. In early 1985, however, the spotlight shone on Mirage again when Cliffjumper suspected him of disloyalty. The discovery of a Decepticon installation in a sector Mirage had recently observed caused Cliffjumper to leap the incorrect conclusion that he was a traitor to the Autobots, having concealed the information. After a battle with the Decepticons, Mirage risked the trust of his comrades by sneaking away to perform a plan of his own, framing the Decepticons for stealing Energon Cubes from the Insecticons. Spotted carrying the cubes by Cliffjumper, Mirage's guilt seemed all but confirmed, and before he could reveal his innocence, he was captured and brainwashed by one of Bombshell's mind-controlling cerebro-shells. Under Bombshell's control, Mirage led the Autobots into an ambush, but at the battle's end, the assorted manipulations were revealed and Cliffjumper apologised to Mirage. Towards the end of the year, Mirage was among the team of five Autobots who disguised themselves as the Stunticons, with Mirage's alternate mode making him the perfect choice to masquerade as Drag Strip. Penetrating the Decepticons' camp, the Autobots ran into trouble when the real Stunticons arrived, trying to prove their identities by forming Menasor. With a combination of Windcharger's magnetic powers and Mirage's illusion-creating ability, the Autobots were able to appear as Menasor too, but the deception was soon revealed, though they were still able to thwart the Decepticons' plans.
Robot Heroes
Edit
Mirage has currently appeared in the Robot Heroes line two times:
Ad blocker interference detected!
Wikia is a free-to-use site that makes money from advertising. We have a modified experience for viewers using ad blockers

Wikia is not accessible if you've made further modifications. Remove the custom ad blocker rule(s) and the page will load as expected.