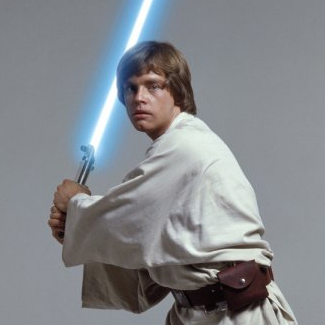 General Bio
Edit
Played by: Mark Hamill
Appearances: A New Hope
Faction: Jedi
Race: Human
Homeworld: Tatooine
Adopted by his Uncle Owen and Aunt Beru, this young 18 year old boy lived his life as a poor moisture farmer, despite his lineage coming from the amazing Starfighter pilot and jedi warrior, Anakin Skywalker. When the 2 droids, R2-D2 and C-3PO found their way into his possession, he soon also found himself on a new mission to rescue the Princess Leia. This mission led to meeting Obi-Wan Kenobi, who informed him he was to be trained as a Jedi knight and in the process would end up leaving the planet that was "the farthest from the bright center of the universe" and begin his journey to become one of the most famous individuals in the galaxy.
Galactic Heroes
Edit
Luke Skywalker has appeared in the Galactic Heroes line [?] times
Ad blocker interference detected!
Wikia is a free-to-use site that makes money from advertising. We have a modified experience for viewers using ad blockers

Wikia is not accessible if you've made further modifications. Remove the custom ad blocker rule(s) and the page will load as expected.