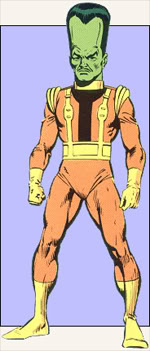 General Bio
Edit
Alias: Samuel Sterns
Designation: Artificially Enhanced
Powers: Superhuman intelligence, psionic powers, genius-level genetic engineering,superhuman probability evaluation and a genius-level mastermind
This Incarnation: Classic
First Appearance: Tales to Astonish #62
Sam Sterns was once little more than a slow-witted laborer who had never even completed high school. As an adult, Sterns found employment working the night shift at a chemical research plant. One evening, he was moving canisters of waste material when one of the containers cracked open bathing him in gamma radiation. Sterns survived what would normally be a lethal dose of radiation, but not without cost. Initially however, the side-effects seemed completely beneficial. Sterns discovered that his intellect had increased a thousand-fold, and he retained information with the accuracy of a computer. He began reading voraciously, accumulating as much knowledge as he possibly could. Before long however, his gamma-irradiated body continued to mutate. His skin turned permanently green, and his cranium increased in size. Abandoning his true human name, Sterns instead began to refer to himself as the Leader. Over the course of a year, he used his heightened intellect to become a criminal mastermind, and he developed an extensive spy ring with plans of taking control of the United States government. His efforts soon earned him the attention of another gamma-spawned mutation, physicist Dr. Bruce Banner.
Superhero Squad
Edit
The Leader currently has appeared in the Superhero Squad line two times:
Ad blocker interference detected!
Wikia is a free-to-use site that makes money from advertising. We have a modified experience for viewers using ad blockers

Wikia is not accessible if you've made further modifications. Remove the custom ad blocker rule(s) and the page will load as expected.