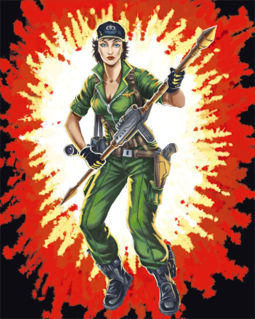 General Bio
Edit
File Name: Alison R. Hart-Burnett
Specialties: Covert operations; Intelligence
Birthplace: Martha's Vineyard, Massachussets
Grade/Rank: Staff Sergeant (E-6)
Affiliation: GI Joe
Lady Jaye is a gifted linguist as well as an accomplished actress and mime artist. She has participated in or led many undercover missions for the Joe Team. She is a believer in the saying that "less is more." That is why when she puts on a disguise, she eschews complicated makeup and rubber masks. Instead, she becomes the object of her disguise, right down to movement and mannerisms, even right down to the dialect and accent. It also helps that her genes help her pass for a number of European and Middle Eastern natives.
Lady Jaye is educated in Bryn Mawr and Trinity College, Dublin. Aside from Airborne and Ranger training, she is skilled in cryptological linguistics, signals intelligence, and electronic interception analysis. She is just as equally adept at infantry field work and quite enjoys the grunt duty.
Combat Heroes
Edit
Lady Jaye has not currently appeared in the Combat Heroes line, but was expected to appear one time:
She was supposed to appear in her classic green costume, holding a spear in the Lady Jaye and Major Bludd 2-Pack, but it was never released in the US, it was only available in Canada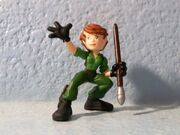 Ad blocker interference detected!
Wikia is a free-to-use site that makes money from advertising. We have a modified experience for viewers using ad blockers

Wikia is not accessible if you've made further modifications. Remove the custom ad blocker rule(s) and the page will load as expected.