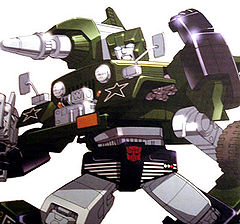 General Bio
Edit
Universe: Generation One
Transforms into: Cybertronian Car, Mitsubishi J59 Military Jeep, Power Scoop, Jeep Wrangler, Cybertronian Truck
Faction: Autobots
Voiced by: Ken Sansom
Appearances: Transformers the Cartoon
During the first season of the cartoon, Hound served as the Autobots' primary scout and recon soldier, a role which suited him well because he quickly grew to love the varied natural landscapes of Earth. Hound was also instrumental in the creation of the original 3 Dinobots, as he captured holographic images which served as rough blueprints for construction of Grimlock, Slag, and Sludge. However, after a spurt of early appearances - perhaps most notably in relaying the pilot's backstory to Spike - Hound became increasingly absent from the show, showing up only when his holographic powers were necessary. Hound's first appearance came in "More Than Meets the Eye", a three episode pilot created to launch the toyline onto television. Oddly enough the role of Spike's companion was filled by Hound in these episodes rather than Bumblebee. Hound was the first to introduce Spike to the concept of "transforming" and also gave Spike a tour of the nearby desert while beguiling him with tales of Cybertron. Hound would also end up being rescued by Spike, who nearly drowned in the process of saving him. While resuscitating Spike on the shore, Hound makes the mistake of thinking that the human Spike had "flushed his engine". Hound would be among the main cast of the pilot, almost playing as large of a role as Optimus Prime himself. This changed however when the show moved into its regular season. Bumblebee became Spike's companion, and Hound took a backseat, though he had an occasional large role.
Robot Heroes
Edit
Hound has currently appeared in the Robot Heroes line one time:
Ad blocker interference detected!
Wikia is a free-to-use site that makes money from advertising. We have a modified experience for viewers using ad blockers

Wikia is not accessible if you've made further modifications. Remove the custom ad blocker rule(s) and the page will load as expected.