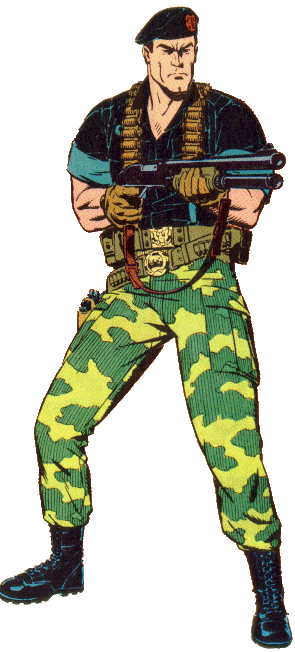 General Bio
Edit
File Name: Dashiell R. Faireborn
Specialties: Infantry; Fixed wing pilot; Rotary wing aircraft pilot
Birthplace: Wichita, Kansas
Grade/Rank: Warrant Officer (W-2)
Affiliation: GI Joe
Flint is a classic example of a great, respected field leader. He is capable of making thorough tactical plans and executing them to a perfect tee. A natural leader who inspires his men to victory and credited with the success of several rescue missions in hostile territories. He is trained in many military skills including airborne, HALO jumping, ranger, helicopter piloting and is a Special Forces man.
With all those attributes, it would not have occurred to many that Flint was a Rhodes scholar and has a degree in English literature. The life of an academe held little meaning for him and promptly got bored. Joining the military was the adventure he was looking for. But all that literary pursuit didn't go to waste. The same tenacity and concentration he used to get through his scholarly struggles is what ultimately got him through his many trainings. He brings the same scholarly approach in laying out tactics and strategies.
Combat Heroes
Edit
Flint has currently appeared in the Combat Heroes line one time:
Ad blocker interference detected!
Wikia is a free-to-use site that makes money from advertising. We have a modified experience for viewers using ad blockers

Wikia is not accessible if you've made further modifications. Remove the custom ad blocker rule(s) and the page will load as expected.