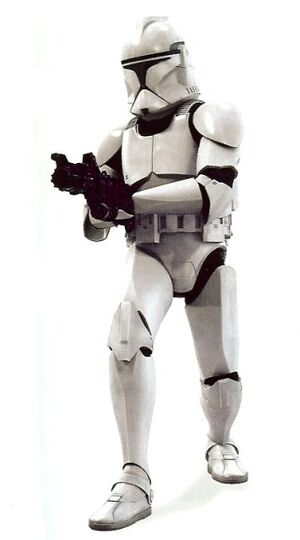 General Bio
Edit
Appearances: Attack of the Clones, Revenge of the Sith
Faction: Clone Troopers
Race: Clone
Homeworld: Kamino
Clone troopers were an army of identical, genetically-modified clones, created to serve in the Grand Army of the Republic during the conflict that came to be known as the Clone Wars. The clone troopers are clones of Jango Fett, grown and raised in the laboratories and facilities of Kamino, the clone troopers were trained throughout the first ten years of their lives to become one of the most efficient military forces in galactic history. Bred for the sole purpose of combat, the clones were indoctrinated with unwavering obedience to the Galactic Republic and—more specifically—their Commander-in-Chief, the Supreme Chancellor. For roughly three years, the clone troopers fought to defend Republic sovereignty against the Separatist rebellion. Throughout the conflict, the members of the Jedi Order served as commanders and generals of the Grand Army, and thus they served alongside their clone soldiers on many occasions. But the covert Sith plot to seize control of the galaxy, masterminded by the Sith Lord Darth Sidious, effectively caused the clones to betray and destroy the Republic that they were sworn to protect with their lives. Sidious, in his public guise as Chancellor Palpatine, issued Order 66 to the clone troopers on the eve of the Clone Wars' end.
Galactic Heroes
Edit
The Clone Troopers have appeared in the Galactic Heroes line [?] times
Ad blocker interference detected!
Wikia is a free-to-use site that makes money from advertising. We have a modified experience for viewers using ad blockers

Wikia is not accessible if you've made further modifications. Remove the custom ad blocker rule(s) and the page will load as expected.