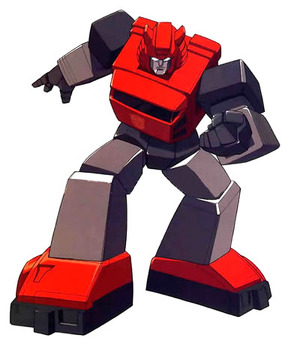 General Bio
Edit
Universe: Generation One
Transforms into: 1981 Porsche 924 (Turbo), Cybertronian Car, Suzuki Swift
Faction: Autobots
Voiced by: Casey Kasem
Appearances: Transformers the Cartoon
Cliffjumper was part of the original Autobot crew of the Ark. When the Autobots and Decepticons were reawakened, Cliffjumper was given the alternate mode of an Earth car. Cliffjumper and Hound were sent to scout out the location of the Decepticons. Although ordered not to engage the Decepticons, Cliffjumper took the opportunity to try to shoot Megatron, revealing their existence to the Decepticons. Because of this, Hound was blown off the road by Laserbeak - something that made Cliffjumper regret his impulsiveness. Hound, however, didn't blame him, quipping that he was only sorry he missed. Cliffjumper's most prominent appearance came in the second season episode "Traitor", where he developed the belief that Mirage had sold them out to the Decepticons after missing a Decepticon power plant while on patrol. Mirage then devised a scheme to prove he wasn't a traitor, setting the Decepticons and Insecticons against each other. However, Cliffjumper had followed him, and misinterpreted his actions. Reporting back to base, Cliffjumper took Prime to see for himself - only to run into an ambush, as Mirage betrayed them. The reason soon became apparent - Mirage had been implanted by one of Bombshell's cerebro shells. After the Decepticon plant's destruction, Cliffjumper apologised to Mirage. During The Transformers: The Movie, Cliffjumper is stationed on Moonbase 1, from which he and Jazz try unsuccessfully to escape when attacked by Unicron. After their apparent consumption by the planet-eater, they are ultimately saved by Daniel Witwicky.
Robot Heroes
Edit
Cliffjumper has currently appeared in the Robot Heroes line two times:
Ad blocker interference detected!
Wikia is a free-to-use site that makes money from advertising. We have a modified experience for viewers using ad blockers

Wikia is not accessible if you've made further modifications. Remove the custom ad blocker rule(s) and the page will load as expected.