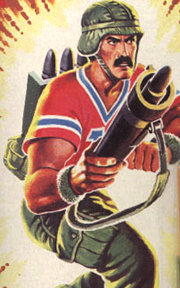 General Bio
Edit
File Name: David L. Katzenbogen
Aliases: Sgt. Bazooka
Specialties: Anti-armor; Tank driver
Birthplace: Hibbing, Minnessota
Grade/Rank: Sergeant (E-5)
Affiliation: GI Joe
Bazooka's trainers described him as a decisive fast thinker with the instincts of a natural survivor. They must have been on to something when they saw his transfer request to Armor School. Bazooka was driving an Abrams tank as part of the Third Armored Division when he came to the realization that an iliterate farmer armed with a $200 rocket launcher can knock out a tank.
While Bazooka has never quite projected himself to be a highly intelligent individual, he has surprised his teammates and foes alike with his strength and tenacity. Having trained on both sides of armor, Bazooka is just as much a qualified tank operator as he is an anti-armor expert. When he's not busy, he likes to engage in his passion for fishing.
Combat Heroes
Edit
Bazooka currently has appeared in the Combat Heroes line one time: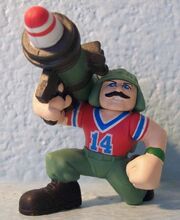 Ad blocker interference detected!
Wikia is a free-to-use site that makes money from advertising. We have a modified experience for viewers using ad blockers

Wikia is not accessible if you've made further modifications. Remove the custom ad blocker rule(s) and the page will load as expected.